Are you thinking where to spend your next vacation in? Athens can be the best destination that you can go to on your next holiday. This archaic metropolis in Greece has much to recommend itself. Its archaeological ruins, its art museum, its rich heritage and remnants of fascinating history will remind you of its ancient days while its savory cuisines, vibrant night, amazing view and great beaches will make you believe there could be no better getaway for you. If you are looking for the top 10 reasons to visit Athens, read this article of digital nomads. Otherwise, keep on reading!
1. Lovely beach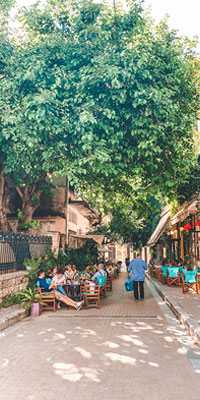 The Vouliagmeni beach is situated about 20 kilometers to the south of the city center of Athens. There are a lot of tour that can make you visit the cost. While it might not be a beach holiday destination per se, you have many sandy areas here to get a tan or read a book about Greek national history. There are amazing sandy stretches near to the south of its city center, and you will love the clean blue waters and the amount of things to do, during the day as in the night. You can stop at the pretty cove Skalakia Agias Marina, noted for its turquoise waters and golden sands.
For any water sports lover, it is important to hit the Vouliagmeni beach. Even if it's not like the Greek islands, it is one of the most beautiful beaches in the coastline of Attica, and has all that you would need in a day trip to any beach destination – whether it comes to boat hire, paddle boarding or windsurfing.
2. The Mediterranean climate
This Greek capital is loved for its more or less warm weather round the year. In summers, you need good sun protection! During winters, the weather is mild. Even when you go to this place in January, an average 10° C temperature can be expected, and you will hardly be chilled to the bones. Except for a few days, weather is mostly pleasant here – which makes it a fantastic travel destination.
During summers, it is best to travel during the early hours of the morning to see the local attractions and the most interesting places. Afternoons can be hot, and you would need to wear a hat. People retire late, around 9 – 10 pm during the summer months, and you can do some catching up after sunset also.
3. Amazing architectures
The city is dotted with many ancient ruins, such as the stunning Odeon Of Herodes Atticus that must be visited. You can see the majestic Temple of Olympian Zeus or walk down Plaka's winding street. Make some time to visit Delphi, the place for the renowned oracle of the classical world of the Grecians. Don't worry, you are not alone in all this: you'll be able to enjoy many tours in the center of Athens starting from the main neighborhood, Plaka. A local guide will be glad to show you around.
However, the Acropolis itself is a major draw, an open air museum. Among the most important things to see in Athens, this amazing citadel from the ancient times located upon an hill, which overlooks Athens, has been standing for thousands of years. This is a UNESCO site that is famous all over the world, and most people who travel to Athens are awe-struck at the beauty of the Acropolis. It is not a single building, unlike what many people tend to feel. Rather, it is a huge pedestal that is situated over a rocky outcrop above Athens. The structure was built by Pericles in the 5th century BC and consists some of the most famous architectural wonders of the world, including the Temple of Athena Nike, the Erechtheion, the Propylaia and Parthenon. It has many fabulous ruins, such as the Theater of Dionysus and the globally renowned Parthenon temple. The temple of Parthenon is located atop the Acropolis, and you need to see it to enjoy its beauty first-hand. It is one of Acropolis' landmarks and people from across the globe visit it.
4. Savory cuisine
Whether or not you are a foodie, the food here can be the main reason to visit Athens. The city is loved for its moussaka, fresh Greek salads, juicy souvlaki and much more delicious food. The Klimataria is among the most ancient taverns in Athens, and it serves the best traditional local cuisine in Greece. Along with foods, you can enjoy some local dances and music to have a real experience.
When in Athens, do not miss the sweet and mouth-watering Baklava pastries that can make the best dessert. Dine in the Tudor Hall, where you can get amazing views of the Parthenon and the Acropolis. You can have your fill at any of the fabulous restaurants in the side streets around Plaka, available at a low cost if you want to enjoy your trip on a budget. The place is known for its fantastic local cuisines that can impress any foodie out there.
5. Bustling nightlife
The city really comes into its own after sunset here, and it is recognized for its amazing nightlife. The bars also come to their own after 10 pm, and you can get fantastic options then on. Check out the 360 Cocktail Bar, which is above the Monastiraki square, and can give you an amazing all-around glimpse of the Grecian capital.
Afterwards, go to Kavouras and enjoy the blues music of the Greek people, Rembetika, which can give you an idea of traditional Grecian culture. If you are in the mood for more fun, go to the Island – which is in the trendy area of Riviera – and is among the best party sports in the city. There are many amazing clubs situated in Glyfada, Syntagma Square or Voula. In Greece, the clubs begin late and it can be a good idea to dine in any of the numerous taverns and restaurants located across the city. You can get advice from your hotel about the best clubs that are worth visiting in Athens.
6. Shoppers' Delight
The city boasts of many amazing markets. When you enter the flea market of Athens, you can find many fantastic items that might be 'gems' from various perspectives. From musical instruments to second-hand books to tea-sets to old paintings, you will be able to find rare and fantastic stuffs that might turn out to be 'collector's delights' for you.
If you wish to come back home with delightful souvenirs, go to the Agios Markos and Eolou Streets, where most local people tend to shop every day. The market of Monastiraki, Ifestou is where people come from every corner of Greece each Sunday to sell knick-knacks. You can get a good opportunity to bargain as much as you want during your market tour. The Plaka area is where you can possibly get the best oils and snacks in Greece. Whether it comes to handcrafted Grecian pottery, olive oil soaps or local specialties, you can find them all here in a sort of modern market. In fact, when you are in Athens, you cannot miss this area – which stands out for its many delightful stuffs.
7. Island-hopping
When you are in Athens, the Agistri island should be on your list of must-see destinations. You can take a dip in its clear blue waters. There are many more island destinations close to Athens that can be reached in an hour by boat. You may hike along Anthos, sit in Kythnos' natural hot springs, snorkel in Agistri's clean waters or dive and swim there.
8. Greek Orthodox Churches
The orthodox churches in Greece are worth visiting for their beauty and their ancient splendor. It is remarkable how these have been standing for hundreds of years. Due to the history of the place, you can find more smaller sized churches as compared to big cathedrals. When Christianity entered Europe, it came through Greece, and churches were built by many people with own funds. These smaller cathedrals were built by them only for their own communities and they lacked the money to build bigger cathedrals. It was only later that large cathedrals could be built with government funds.
9. Festivals round the year
Athens witnesses a number of festivals held round the year. This is a dynamic city that loves to celebrate life and you can find cultural events being held every month here. Whether it is an exhibition, a show or a festival, you can find it all in this Grecian capital city.
The Epidaurus Arts Festival is held during the summer months, from June to August, and it witnesses many performances with actors on stages. It comprises of classical dance and music performances, open-air theater and more across Athens.
The Apokries Carnival is another festival that is equally amazing. It is observed in the 3 weeks preceding Lent. Just like any other European carnival, it has a large number of people moving through the streets dressed in costumes, dancing and feasting on local delicacies. You have every reason to be here and enjoy the sights and sounds and all that the city has on offer.
10. Byzantine History
Last but not the least, visiting Athens will give you the chance to know about Byzantine history and the city's ancient side. The culture and history of the Byzantine empire played a major role in the attitude of people of the country, and particularly because this was the time when Christianity was established here. You can get glimpses of that bygone era at the museums here, such as those around the Parthenon. The 6th century BC architecture, the Temple of Olympian Zeus, and the Ancient Agora of Athens from the same time can also give you an idea of the majestic splendor of the old times.